My SDCC Exclusive "leashed" Doomsday arrived a few days ago. I'll have the review up soon, but suffice to say, I think that he's a pretty awesome toy. I love his size, the look; he's fantastic. Since I'm not so hot on the final two Signature Series releases and while I'm excited about the Super Powers repaints and unarticulated Mr. Mxyzptlk, one's really just a pack-in accessory and the others are repaints. So when my SDCC Doomsday arrived, I realized that he was really the swan song for what is going to be one of my all-time favorite toy lines. I was glad to finally have him, but it was bittersweet.
That same day, a pictured leaked of the Unleashed Doomsday in a packaging mock-up. It looked amazing. I had hoped it meant good things – I've always wanted both Doomsdays. Back when they were first revealed, I had hoped for both since Mattel had both in their possession, that they had displayed both, that we would get both. I pushed for Mattel to release both Doomsdays if we hit Tier 2 on the DC sub. Of course, we didn't hit Tier 1, so it was moot. When the regular Doomsday was announced as an SDCC figure, I assumed the boat had sailed on Unleashed… until I saw the leaked picture this week. Even when Mattel dismissed it as a packaging mock-up, I was cool with it because it meant it was still a possibility. And the good news is that we didn't have to wait long!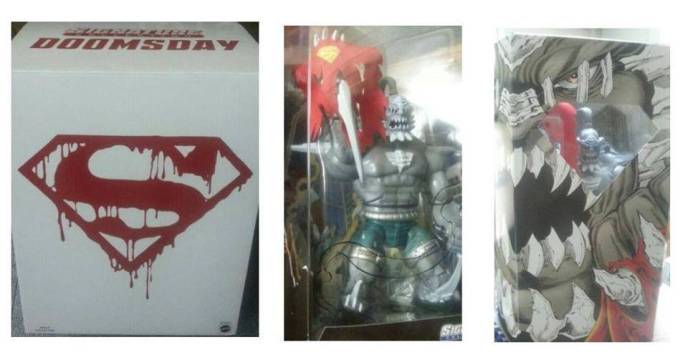 MattyCollector posted this on their Facebook page yesterday:
Celebrating the official end of the Four Horsemen 6″ DC Universe line, Mattel is excited to partner with Warner Bros. and DC Comics to bring you the long-in-coming "Unleashed" Doomsday figure! He will be available this winter in an amazing window box diorama as a standalone day-of purchase! Images and full details to come, but we couldn't wait to share this news with our fans! This final figure will celebrate the end of a fantastic toy line.
This is a great announcement for fans of the line. As long as he's faithfully executed, this will be a great figure to end the line on this year!