Okay, I know I started the review off saying that there was more to show than say and I've been talking your ear off. That won't be the case with Dark Arsenal of the Space Pirate. While I've got some things to talk about, the number of combinations available necessitated a whole page of pictures unto itself.
The Arsenal includes five pieces – a Photon Crossblaster, a Scimitar Blade, a 'Pest Pulverizer', a pistol, and a hilt.
While you can see that these weapons are perfect as attachments for the Evil and Armed for Combat Master, the true genius here is the hilt and the pistol. Each item is interchangeable, so you not only have a scimitar blade attachment, but also a scimitar sword itself.
The pistol works the same way, acting as its own unique piece or being able to combine with the others to make a handheld crossblaster for any character or… even a swordgun.
The swordgun combination is a bit loose, but all the other combinations are snug while poping on and off easily. And even though it didn't occur to me to get a picture of it, the three attachment pieces all include hooks so that they can be affixed to the belt.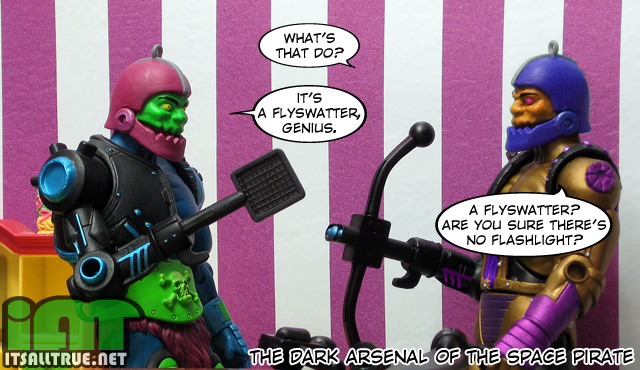 All of the Dark Arsenal pieces are nicely sculpted and feature level of detail (check out the grid on that flyswatter) I've come to expect from SMC. This particular accessory kit is also available as the Tools of the Master Strategist, cast in silver.
The Dark Arsenal will set you back $15, while the other swords, axes, and shields are $10 each. The prices might sound high, but you have to keep in mind that each item is hand-crafted and made to order. You're also sure to receive weapons that are sturdy in your hands and feel like they'll hold up to play. I've been getting my share of flimsy gummy weapons in mass market releases from Hasbro and Mattel lately, but I know that I can expect top notch weapons from Spy Monkey Creations. The prices might keep you from buying each and every colorway, but if you've got some fantasy figures and are looking to spice up your collection/display, then the SMC weapons should be right up your alley.
Most of the weapons featured here are available at the SMC Store while the Dread Axe of Horrors is available at Poe Ghostal's Points of Acquisition.